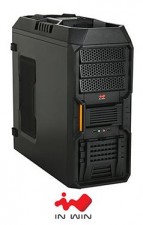 In Win recently released an updated version of their popular BUC chassis, this time calling it the BUC 101. In Win has made a big push as of late to become a big part of the computer enthusiast market, you need look no further than their Retail Web Site to get an idea of the enthusiast cases and power supplies they offer today. Once known mostly for their OEM products, it's safe to say In Win is well on their way to becoming much more. Read on as we explore the BUC 101, learn what improvements have been made since the original BUC chassis, and if it deserves consideration for your next system build or upgrade.
About In Win
IN-WIN Development Inc., an ISO 9001 manufacturer of professional computer chassis, power supplies and digital storage devices, is the leading provider of enclosure solutions to system integrators worldwide. Founded in 1985, IN-WIN provides high quality chassis that conform to all safety regulations, as well as unsurpassed customer service.
In Win was well trained to become a top-notch manufacturer of core technology to enhance internal core competence to meet what customer and market needs constantly. Top Management has been executed four major elements to reach our growing goal: Innovation, Service, Speed, Value, Safety, Warmth, Faithful, Diligence in order to remain our leading edge position and differentiate with other players.