Thermaltake,
Well known in the industry for computer cases, power supplies and headphones.
Two years ago we reviewed the 'Blingtastic' but brilliant Thermaltake Dracco Headphones.
http://www.overclockerstech.com/tt-sports-dracco-signature-headphones-review/
Today's news is about their new Commander series of fan controller.
Taipei, Taiwan-April, 10th, 2015-Thermaltake, an industry leader in computer chassis, thermal solutions, and power supply units, impressed computer DIY fans all over the world with the launch of the patented Thermaltake Ring LED Radiator Fan Series last month in February. In the mission to fulfil all consumer needs and provide a complete product line, Thermaltake is releasing the world's largest 5.5" touch screen fan controller in the market, the new "Commander FT Touch Screen Fan Controller", also showcased at the 2015 International CES. The Commander FT allows users to monitor and control the fan speed and system temperature of five fans at the same time! The expansive 5.5" touch screen—one of the largest available—makes interaction easy, and the auto, manual, performance and silent operating modes give users comprehensive control over the fan's cooling performance, making temperature and noise control easy. To install,
all you need is an empty 5.25" driver bay. By releasing both the Commander FT Touch Screen Fan Controller and the Riing LED Radiator Fan Series, Thermaltake establishes itself as a leader, by again demonstrating the commitment to provide superior cooling products with practical and user-friendly design.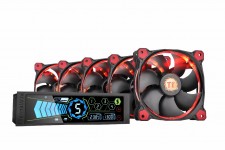 Thermaltake Commander FT Touch Screen Fan Controller is easy to install, allyou need is an empty 5.25" drive bay.  The Commander FT Touch Screen Fan Controller supports up to five independent fans, each channel delivers up to ten watts.
It looks like things are looking up for Thermaltake with a whole plethora of new releases recently.