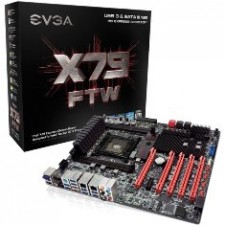 With the release of Intel's Sandy Bridge-E processors and X79 Chipsets late last year, motherboard manufacturers have been busy meeting the demand for this new platform. EVGA entered the Sandy Bridge-E market with three different X79 motherboards: the X79 Classified, X79 FTW and the X79 SLI. Today we will be looking at the FTW version of EVGA's X79 offerings. But first a little information on EVGA would be in order.
About EVGA
"EVGA is the #1 NVIDIA authorized partner in channel sales throughout North America. Based on the philosophy of intelligent innovation, market knowledge, and the real time operation, EVGA continues to identify the need in the market place and providing the solution to that need. By offering product differentiation, 24/7 tech support, a 90 day Step-Up program, and other customer focused programs, EVGA is a clear leader in all categories: etail, retail, distribution, and system builders. With headquarters in Brea, CA, EVGA's global coverage includes EVGA GmbH in Munich, EVGA LATAM in Miami, and EVGA Hong Kong. For further information online about EVGA please visit our Website"
–~~~~~~~~~~~~–
Keeping with the traditional EVGA packaging style, the X79 FTW comes boxed in a black and red themed box. The front has "X79 FTW" in large print on it, as well as reference to the USB 3.0, SATA III/6G, and PCI Express 3.0 support. Four icons at the bottom of the box front have the Intel and Nvidia branding.
The back of the box is loaded with product information and key features, which will be listed below in the specifications. The back of the box is also dotted with several icons depicting the 3-Year warranty (can be extended for a fee) and the available 24/7 tech support. The available EVGA online community opportunities such as SoNet, Mods Rigs, and Gaming are also highlighted.
The four sides of the box explain the box contents, more key features, and some additional branding.
Beginning the unboxing process, you are immediately greeted by a sticker applied to the inside stating that EVGA offers direct customer service and there is no need to return the item to the store where it was purchased. Inside the outer box is a much heavier duty, all black box, which houses the motherboard and all the accessories. Upon opening the inner box, you find the visual installation guide, the user manual, the driver CD, and lastly, a nifty little case badge.
Sitting on top of the motherboard is another two sectioned box that is home for all the accessories included in the X79 FTW. Here is the run down of everything contained in the box:
X79 FTW Motherboard
Driver Installation Disc W/ EVGA E-LEET
Rear I/O Shield
2 SATA 3G Data Cables
2 SATA 6G Data Cables
2 SATA Power Adapters (Four Pin Molex to SATA)
2 port USB / 1394a Firewire Port Bracket
2 Port USB 3.0 Bracket
Flexible SLI Bridge (3.5 Inches)
3-Way SLI Bridge (3.25 Inches)
3-Way SLI Bridge (4 Inches)
Visual Installation Guide
User Manual
Case Badge
Once past all the accessories, we get to the EVGA X79 FTW motherboard, which is wrapped in a large anti static bag. The board rests on a foam bed when sealed in the anti static bag to guard against damage during transit.
Next we will go over the features and specifications of the EVGA X79 FTW, and quite a list it is!
Features 
12 Phase PWM
Cleanest variable power switching
PCI-E Disable Switch
Quickly and easily troubleshoot
E-LEET Tuning Utility
Adjust your overclocking in OS
Triple Bios Support
Use three separate profiles
Right Angled 24 Pin
Improved cable management
Onboard Bluetooth
Wireless input and data connection
EZ Voltage Read Points
Easy read dedicated read points
Onboard CPU Temp Monitor
Monitor CPU temps quickly and easily
Passive Chipset Heatsink
No fans, lower noise, longer lifespan
Dual 8-Pin CPU Power
Optional 8-Pin provides up to 600W
100% Poscap Capacitors
Higher quality, longer lifespan
DIMM Disable Switch
Quickly and easily troubleshoot
Higher Gold Content
Lower inductance, better power delivery
Key Specifications
Supports Sandy Bride-E (Enthusiast) CPU
Intel X79 Chipset
Enthusiast Layout Supporting 2-Way SLI, 3-Way SLI,
3-Way SLI + PhysX and CrossfireX
4 DIMM Quad-Channel DDR3 2133+
(Up to 32GB)
PCI-E 3.0 Ready
5 PCI-E Graphics Expansion Slots
1 PCI-E X1 Slot
10 USB 2.0 (2 Rear – 8 Onboard)
10 USB 3.0 (8 rear – 2 Onboard)
Onboard Bluetooth
2 SATA III / 6G Ports
4 SATA II / 3G + 2 eSATA (rear)
1 Firewire 1394a Port (Onboard)
2 Gigabit Ethernet Ports (10/100/1000)
8-Channel High Definition Audio + Optical
E-ATX Form Factor
Detailed Design Specifications
Supported CPUs
Intel Core i7 Socket 2011
Socket Type
LGA2011
PCH
Intel X79
DIMM Qty
4 DIMM Slots
Memory Type
DDR3 800/1066/1333/1600/1866/2133+
Memory Capacity
32GB
SATA II 3.0Gb/s Ports/Controller
4 / X79 PCH
SATA III 6.0Gp/s Ports Controller
2 / X79 PCH
E-SATA 3.0Gp/s Ports/Controller
2 / Marvell 6121
Raid Support
Raid 0, 1, 5, 10, JBOD
USB 2.0 Ports/Controller
10 / Intel X79 PCH
USB 3.0 Ports Controller
4 / VLI VL800=Q8
Network Speed
10/100/1000
Network Ports/Controller
2 / Marvell 88E8059
Audio
8 Channel HD Audio
Audio Controller
Realtek ALC898
PCI-E Slot Arrangement
1×16, 2×16 or 3×8
PCI=E x16 Mechanical SLots
5
PCI-E x1 Slots
1
BIOS Type
AMI / UEFI
Software
EVGA E-LEET Tuning Utility
Fan Headers
7
Dimensions
Width: 10.375in (263.5mm)
Length: 12in (304.8mm)
Form Factor: EATX
You may have noticed under the PCI-E slot arrangement listed above that three graphics cards run at 16X8X8, which only adds up to 32 lanes. There are 40 lanes available with the Sandy Bridge-E platform, so we are not quite sure why EVGA implemented this limitation. Under a 40 lane atmosphere, a 16X16X8 configuration would be possible and increase performance in a Tri-SLI configuration. If you use two cards in SLI then this limitation is a non issue because two cards will work at 16X16. The 32 lane limitation will not be an issue for the large majority of users, but it is something to be aware of.
Continue reading as we take an up close look a the the EVGA X79 FTW…..
–~~~~~~~~~~~~–
Once the X79 FTW is completely removed from its packaging, we are able to have a good look at the different areas of the motherboard. The first four images below give you a birds-eye view from above and show off the general looks of the red and black theme applied to the X79 FTW. The last picture below is of the back side of the X79 FTW. We'll go into more detail of each area next.
Both the CPU socket and DIMM slots have information stickers applied to them, which explain how to properly install the CPU and contain a warning to keep the DIMM voltage at 1.65v or less. You may have noticed that the X79 FTW has four DIMM slots and not eight like some other manufacturers provide. With the four DIMM slots you have the capability of adding 32GB of quad channel memory to the system, and that should be more than enough for anything out there. If you are serious about overclocking, then you probably do not want to have a motherboard with eight populated DIMM slots. Kudos again to EVGA for thinking rationally here!
| | |
| --- | --- |
| | |
While taking our initial look at the X79 FTW, a few things caught our attention. The first being a BIOS switch allowing you to switch between three different BIOS's. No need to worry any longer if a BIOS flash goes awry as you can simply throw the switch to a different position and try again. It is possible to throw the BIOS switch after the motherboard has booted, which allows you to flash any or all three in one session. Speaking of the BIOS chip, we were pleased to see that EVGA continues to utilize an accessible clam shell holder for the BIOS chip. Should you ever need to replace the BIOS chip itself, it can be easily done.
We also noticed a mysterious header just next to the SATA ports that is labeled "LCM HDR". Our assumption is that EVGA has some kind of slick device in the making to compliment the X79 FTW. We'll have to wait and see.
We also like the fact that EVGA has covered all of the USB and Firewire headers with rubber covers. These will aid in keeping the headers free of dust if you are not using one or more of them.
As with most enthusiast level motherboards today, there is a LED post code read out, which has been relocated from the traditional bottom right side of the motherboard to the bottom left side.
On the upper edge of the PCH heatsink is a dark window with an "E" embedded in it and some etched branding has been applied.
Continuing our up close look at the EVGA X79 FTW, we will begin at the bottom area. Here you can see a 4-Pin Molex header to apply additional power to the PCI-E lanes, which would be a good idea to use, especially in a Tri-SLI setup. Moving to the right you will see the onboard USB 2.0 and Firewire 1394a connections covered with the rubber plugs we mentioned before. Farther to the right is the onboard USB 3.0 connector, the front panel connectors, a four pin fan header, and the BIOS switch. You can also have your first look at the large PCH passive heatsink, which covers a good portion of the bottom area of the X79 FTW. There is also a speaker built into the motherboard that resides in this area.
| | |
| --- | --- |
| | |
On the right side of the X79 FTW is where we find the 6 SATA ports: the red ones are SATA III/6G, the four black ones are SATA II 3G, and all six are through the PCH. While having only six internal SATA ports might seem a little light, it's all that the X79 PCH supports. It is possible to add more SATA ports here, but they would have to be through a third party controller. As many of you know, the SATA III 6G solutions by third party vendors most often are out performed by the Intel SATA II 3G controller. I for one am glad to see EVGA stick to the Intel only SATA controllers here. Six SATA ports should be plenty for the vast majority of users. If six SATA ports are not enough, there is always the option of using the Marvell E-SATA ports located at the back of the board.
Just behind the SATA ports is a block of five DIP switches allowing the user to turn off PCI-E slots for troubleshooting video card problems. One thing we noticed is that these PCI-E DIP switches will be blocked when a longer video card is installed. Using the DIP switches after a video card has been installed will be a difficult task and probably require using a very small screw driver or something similar. Another 4 pin fan header is also located in this area just above the red SATA ports.
Moving up the right side we find the 24-Pin power connector, which is positioned at a right angle. Next to that is the onboard reset, power on, and clear CMOS buttons. These onboard buttons have also been relocated from the traditional bottom area, which makes them much more accessible. The buttons are great to have when working with a system outside of a case or on a test bench. Just behind the 24-Pin connector you may notice another set of DIP switches. These are a new addition for EVGA motherboards and allow you to disable individual DIMM slots. There are actually two of these switches on the motherboard, the other one is behind the DIMM slots on the opposite end of the motherboard.  These DIMM DIP switches are another great troubleshooting tool if you think you have a bad memory module.
Moving slightly upwards we find the first three of eight voltage readout points, the others are located around the corner at the top of the motherboard. Using a voltage meter, you can easily test the voltage being supplied to the memory, PLL, CPU, etc.
The top of the X79 FTW features yet another fan header, the remaining voltage readout points, and the large heatsink over the PWM area. The remaining top area of the motherboard is home for the two 8-Pin 12v CPU power connections. Only one of the 8-Pin plugs need to be used for normal operation, but if you plan to do some extreme overclocking then using both may be necessary.
Working our way down the left side of the X79 FTW, we come to the I/O area. Here is the list of what included here:
Atheros Bluetooth
Two USB 2.0 Ports
Clear CMOS Button
EVBot  Connection – LINK
One PS/2 Connection for Mouse or Keyboard
Eight USB 3.0 Ports (VLI VL800-QB)
Two E-SATA 3.0Gp/s Ports (Marvell 6121)
Two 10/100/1000 LAN Ports (Marvell 88E8057)
8-Channel HD Audio Jacks (Realtek ALC898)
One Optical Output
The lower left side of the board affords a good look down the barrel of the five PCI-E slots and the single PCI-E 1X slot. Just in front of the top PCI-E slot is the 4-Pin connector for the EVGA EVGauge. Just up from the top PCI-E slot is another 4-Pin fan header. In case you are wondering, there are no less than seven fan headers on the X79 FTW!
Next, we removed the PWM heatsink to have a look at the 12 phase PWM area. Removal of the heatsink is easily accomplished by removing four spring loaded screws at the back of the motherboard. We like the fact that EVGA uses screws to secure the heatsinks to the motherboard in lieu of the traditional plastic pushpin design. This makes for a much better contact with the target area. With the PWM heatsink removed, we were able to see that the thermal pad was making excellent contact over the entire length of the heatsink. First impressions left us feeling there should be no problem supplying enough power for some good overclocking.
Next, we removed the PCH heatsink to find a slightly overdone application of TIM to the PCH chip. There are only two screws holding this large heatsink to the motherboard, but given the fact it's only target point is the small PCH chip under it, two screws are adequate.
Next up is a tour of the BIOS…..
–~~~~~~~~~~~~–
The EVGA X79 FTW BIOS appearance is much like that of their P67/Z68 motherboards, a black background with white text. Unfortunately there is no mouse support, but navigating the different areas of the BIOS is done easily with the keyboard. There are no pretty colors, flashy icons, or "Bling" included in this BIOS – just straight forward settings that you need to get the maximum performance out of your components. The BIOS is full featured and contains plenty of options to keep even the most seasoned Overclocker busy.
Beginning with the "Overview" section of BIOS you can access the language, date, and time settings, and set these accordingly. The rest of this area is dedicated to displaying current settings and their values.
| | |
| --- | --- |
| | |
The "Advanced" area has five sub menus for ACPI, Onboard Devices, SATA, USB, and the Hardware Monitor. The ACPI area is where you can set your sleep and hibernation options, as well as the EUP control. The Onboard Device configuration sub menu is where you can enable or disable all the built in features of the motherboard such as Bluetooth, LAN, Audio, USB, etc. Under the SATA configuration sub menu you have the ability to set the SATA mode to either IDE, AHCI, or Raid. You also have the ability to turn individual SATA ports on and off. The USB Configuration area gives you a list of devices you have plugged in and also allows for the enabling or disabling of individual USB ports. The Hardware Monitor sub menu lists current CPU, system, and VREG temperatures, and allows you to view the current voltage readings for the different subsystems. This is also the area where you can set the "Smart Fan" settings for the onboard fan headers. If you turn off the Smart Fan function, your fans will run at 100% at all times; or you can use the feature to control fan speed based on temperatures.
Moving over to the "Chipset" area of the X79 FTW BIOS is where we find additional sub menu settings for the IOH, QPI, and ME subsystems. All of the OpROM settings are located here along with the power loss and CPU monitoring settings. Under the IOH sub menu are the VT settings and most notably, the PCI-e port speed and bandwidth settings. The QPI sub menu only has the Isoc enable/disable option present. The ME configuration sub menu shows the version number and a few options to enable or disable ME features.
Sliding over to the "Overclocking" section, we find a plethora of options to tweak the X79 FTW. All of the different voltage control settings are located here. The VDroop setting allows for the Intel SPEC, which basically means with VDroop. You can also set VDroop by percentages of 25, 50, or 75 to minimize any potential voltage spikes. If you have an unlocked processor to couple with the X79 FTW, this is where you can change the CPU's multiplier to obtain higher speeds. The EVGA ELEET Ratio Control allows for adjusting overclocking within a Windows environment via the EVGA E-LEET software, which is bundled on the CD.
There are three sub menus in the Overclocking section for memory, CPU, and BCLK settings. Under the memory sub menu is where you can set the BIOS to use XMP profiles or use the manual option for total control of all the various timings and frequency settings. The CPU configuration area has two additional sub menus providing settings for VT, Hyper-threading, and setting the active CPU cores. Under the CPU information sub menu, you find a list of the current CPU settings and supported features. The CPU power management sub menu is where all of the CPU throttling features are found, which will drop the CPU speed during idle conditions.
The last sub menu in the overclocking section deals with the BCLK settings. Here you can set the frequency ratio and the frequency. As most of you know, overclocking on the Sandy Bridge platform has more to to with multiplier and proper voltage settings than BCLK settings, but if you need to adjust BCLK, this is where it's done.
The "Boot" section of BIOS contains options for quiet boot, fast boot, and NumLock status. Once drives are connected to the system, you will see them listed under the Boot Option Priorities line at the bottom. From there you can choose your desired boot priorities.


If you want to set a password for BIOS admin rights, or for users of the computer, the "Security" section of BIOS is where these functions are performed.

The final area of the X79 FTW bios is the save/exit area. Obviously this is where you would save any changes made to BIOS, exit, and reboot the system. If you made changes to BIOS, then decide you do not want to keep them, you can discard the changes and reboot from here. If you want to start with a clean slate, you can choose the restore defaults option and begin anew. Another nice BIOS features is located here as well -  it's called "Setup Profile", and allows you to save up to four BIOS setting configurations. You can also name these for easy reference at a later time.
The EVGA X79 FTW BIOS, while not quite as flashy as some others out there, is certainly loaded with many tweaking options that should allow for maximizing system performance.
–~~~~~~~~~~~~–
If you are familiar with previous motherboard reviews I have done, we attempt to get a solid 1Ghz overclock on every board we review. In this case the X79 FTW is coupled with an i7-3930K CPU, which has a stock speed of 3.2Ghz, thus making our target goal 4.2Ghz.
The first thing we needed to do was get the memory timings and voltages set as per the manufacturers specs. A 4X4Gb G.Skill RipjawsZ kit at 1866Mhz was used for this build. Once that was done, we turned off all the CPU throttling features such as C1E, EIST, C3, C6, and C7. Our first overclocking attempt was a mild 3.6Ghz, and all that was needed to accomplish this was a slight raise in CPU voltage to 1.225v, and of course, changing the CPU multiplier to 36. We then ran 20 passes of the Intel Burn Test with the stress level set at "Very High". The X79 FTW flew right through this test without any problems at all.


Next, we went for a 4.0Ghz overclock and set the CPU multiplier to 40. The vCore voltage was set to 1.250v in BIOS with Vdroop disabled. This resulted in the CPU voltage being reported as 1.270v once we got to the Windows7 desktop. Again the X79 FTW easily completed 10 passes of the Intel Burn Test.


Next was a run at 4.2Ghz, which was achieved by raising the vCore to 1.275v in BIOS, which resulted in a little over 1.30v once at the desktop. Because we had Vdroop disabled, the rise in voltage during stress testing is normal. We set the CPU multiplier to 42 and ran another quick 10 pass run of the Intel Burn Test. Once again no problems encountered here either!

Ok, I know….. that was way to easy, so lets try one more overclock! This time we'll try for a 4.5Ghz speed. This time we set the multiplier to 45 and raised the CPU voltage to 1.30v resulting in a reported voltage of 1.317v at the desktop. Furthermore, we wanted a little longer test to ensure stability, so we ran 20 passes of the Intel Burn Test at the "Very High" stress level. Just like before, the X79 FTW breezed right through the stress testing without errors.

These overclocks were achieved on air cooling using the EVGA Superclock CPU cooler, and the temperatures were always well within the safe zone. There is no doubt that the combination of this CPU and the X79 FTW has a lot more left in it. In fact, we have seen many reports of 4.8Ghz to well over 5.0Ghz being achieved with this combination. Toss some water cooling into the equation, along with the overclocking results we easily achieved, and there is no reason to doubt the capabilities of the X79 FTW.
–~~~~~~~~~~~~–
Because running the X79 FTW at 4.5Ghz is such an easy speed to obtain, even for those using air cooling, we decided to run our bench marks using that speed. Just about anyone should be able to settle on a 4.5Ghz overclock (or more) for daily use, so we thought it was a great reference point for our benchmark testing.
Starting the testing phase of this review we'll evaluate the SATA 6 Intel controller using ATTO and Crystal Disk Mark. We used a Western Digital Black SATA 6 1TB 64Mb Cache Hard drive for testing.
The above results are about what we would expect for this controller/hard drive combination. The read and write results with ATTO show a balanced result indicating good smooth data flow going in and coming out.
Next, we wanted to test the ASMedia XHCI USB 3.0 controller and see how it compared to the standard USB 2.0 controller provided natively by the Intel chipset.
First the USB 3.0 results, again using ATTO and Crystal Disk Mark.
Then the Intel USB 2.0 controller.
While there is a performance increase in write speed between the two controllers, the difference is minimal. The big difference between the two controllers can be seen in the read speed, more than double in fact. All of the USB testing went off without a hitch, both controllers worked admirably.
Next up we ran SuperPI 1M and 32M then followed that up with a 32M and 1024M run of wPrime. The results are below.
It goes without saying that a wPrime 32M run that completes in under five seconds is nothing to sneeze at – great showing there. A sub ten second SuperPI 1M run is a great score as well – this run coming in at under 8-1/2 seconds!
Next up is the full battery of tests offered by AIDA64 Extreme. We updated to the latest version of AIDA64 Extreme because it has very current systems preloaded for comparison against ours. For an explanation of what all these test are actually measuring, please visit THIS website for all the information you need. We'll run all the Memory, CPU, and FPU (Floating Point Unit) benchmarks. First is the memory benchmarks below. It is important to remember that the memory speed and timings have a lot to do with the results of the memory tests. As stated earlier, the memory we used was a set of Quad channel DDR3 1866 G.SKill RipjawsZ 4X4Gb. For some reason AIDA incorrectly shows 35 as our tRAS, but in actuality it is set at 28.
Next we ran the CPU benchmarks, and this combination overclocked to 4.5Ghz pretty much stole the show, out performing everything preloaded into AIDA64 Extreme.
The FPU tests showed much the same domination by the X79 FTW and i7 3930K combination. Here are those results.
–~~~~~~~~~~~~–
The EVGA X79 FTW performed admirably throughout our testing phase and threw up some great benchmark numbers. Early on EVGA had some BIOS issues with this board, particularly when it came to memory. We found the latest BIOS 34 to have fixed those issues, for us anyway. We had no trouble running our G.SKill kit at its rated speed of 1866Mhz, in contrast to those who had trouble running anything over 1600Mhz using earlier BIOS releases. The X79 FTW is maturing and has the potential to be a diamond in the rough. EVGA has a history of providing timely BIOS updates, and knowing EVGA there will be more to come for this motherboard.
Make no mistake about it, the X79 FTW is an overclocking powerhouse. The 12 Phase PWM, 100% POSCAP capacitors, and the increased gold content are all welcome sights and greatly aid in the overclocking ability of this motherboard.
The X79 FTW is certainly not perfect and does have a layout problem or two. Additionally, only having 32 PCI-E lanes available on a platform that supports 40 is a bit perplexing, but as stated previously, this is not an issue if you use two cards in a SLI configuration as the both will run at 16X. At a price of $389.00 USD, the X79 FTW is priced slightly higher than other X79 motherboards offering similar features.
Pros
Looks
12 Phase PWM
100% POSCAP Capacitors
Great Overclocking Potential
Onboard LED Diagnostic
3-Way BIOS switch
Increased Gold Content
Built in Bluetooth
Cons
32 PCI-E Lane Limitation
PCI-E Disable DIP Switches Hard To Reach Once Video Cards Installed
Post Code LED Can Be Hidden Under Certain Video Card Arrangements
Latest BIOS is Still in Beta Stage, Hopefully Official BIOS Release to Follow Shortly
Priced Slightly Higher Than Other Similar Offerings
If you are looking to jump into the Sandy Bridge-E platform, and your want list includes SLI, great overclocking, lots of features, and a motherboard that just plain looks sexy, then you need to keep the EVGA X79 FTW on your short list. Overclockers Tech has awarded the EVGA X79 FTW a 8.5/10 and the accompanying Silver Award!

Dino DeCesari (Lvcoyote)