Introduction
Over the past year water cooling 'ready' cases have come along at a steady pace and have now started to evolve into a viable entity in their own right. Not long ago a water cooling 'ready' chassis was in reality a case with two holes drilled in the back and that was the extent of it. We at Overclockers Tech embarked on a mini-crusade of-sorts in order to get the manufacturers to produce a TRUE water cooling case that did not cost in the region of £300. If the aforementioned chassis are unable to install at least a 240mm based radiator along with its fans internally then it is simply not water cooling ready. Drilling two holes in the back will not fool review sites and it certainly does not fool the most important element of all and that is the consumer.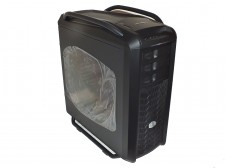 It is great to see that these mists are finally starting to part in earnest and some viable products are starting to turn up. Enter the Cosmos SE by Cooler Master which promises at LEAST two water cooling loops erstwhile with a street price of around £155. To make matters more interesting window or now-windowed versions are exactly the same in price.
Before we go any further we wish to explain the difference between our article and the myriad of differing reviews of the same product out there.  Our review is more of  personal and detailed experience involving a day-to-day build inside of the entitled product. Most review sites will simply post external and internal photos, then do a simple build inside. However we at Overclockers Tech are going beyond this time-honoured review style as we are assembling  TWO high specification water cooling loops and commenting our thoughts and feelings as we progress. This allows the consumer to have  more in-depth knowledge of the Cosmos SE which will allow the former to make a more informed decision.
We will however be conducting this review in traditional fashion until we reach the internal section and then it will be more of an 'experience' rather than a review. So when the aforementioned 'internal photos' are shown there will be an absence of fancy white backgrounds, no blurb just what we have experienced personally whilst in this system build.
 Company Background
While staying true to its original mission, Cooler Master is responding to transformations in the global industry and adapting to its own rapid growth. It will continue to devote resources to developing more advanced technologies, retaining a spirit of innovation. It will also continue to refine its operations, enhancing efficiency and making the company even more responsive to customer needs and market changes as they arise, efficient, and providing even better service to customers.
Cooler Master will also continue it dedication to creating and helping realize a vision for thermal solutions, retaining its promise to customers to be their best partner.
(http://www.coolermaster.co.uk/contact.php?page_id=2 last accessed 06/11/2013)