The SuperMicro C7Z170-OCE motherboard aims to be 'green' in more than just the aesthetics. Supermicro's value add to the community, and the part that they aim to be the differentiating factor, is their long standing role in the server space. They want to use this reputation to promote their use of server grade components on consumer platforms. This will come through in their regular consumer motherboard segments (such as the C7H170-M which we've nearly finished testing) and their gaming motherboard line, which now has a name: SuperO.
| | |
| --- | --- |
| | |
The C7Z170-OCE is aimed squarely at the three-GPU user on Skylake. The PLX8747 chip splits the PCIe lanes into x16/0/x16 or x16/x8/x8, leaving the chipset enough space to add in an M.2 slot for up to PCIe 3.0 x4 bandwidth and plenty of space on the bottom to make sure all the headers can still be used when dual slot cards are in play. We have tested the PLX8747 before, and found that the chip does not noticeably (sub-1%) reduce performance when in use. As SuperMicro is still feeling its way around the consumer motherboard space, we are seeing features that enthusiasts are used to being promoted as positive points. So for example this board also gets some buttons for pre-overclock modes in the top right, and promotes features such as 'SuperFlash' which other motherboards have had for almost half a decade.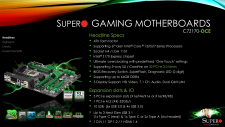 Audio is provided by a Realtek ALC1150, and networking via Intel I219-V and Intel I210-AT controllers. Due to the use of dual Intel controllers, Supermicro lists teaming, fail over and load balancing as features of this combination. USB 3.1 is given on the rear in a Type-C configuration through the ASMedia ASM1142 controller, although it seems a little odd that only one port of this controller is being used. There is another ASM1142 onboard near the bottom, which is connected to a USB 3.0 header – the motherboard is advertised as having a USB 3.1 (10 Gbps) header, but this standard isn't finalized so we are looking into whether Supermicro is actually validating this header at double the data rate than normal. (It turns out this header will support two USB 3.0 or one USB 3.1, but it requires the right connectors/ports which will not be included in the bundle.)
Details are a little sketchy at the moment; more on this as we find out additional information.