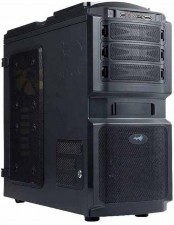 In Win should be no stranger to anyone who is familiar with the computer case market as they have been around since 1985. In today's ever changing computer component market not too many companies can say the have been around 25+ years. This fact alone should be a good testament as to the quality of products In Win provides and distributes to market. For years In Win has been one of the top providers of "OEM" and "No-Frills System Builders" cases. Recently, over the last year or so, In Win has decided to up the ante and dive into the ever growing "PC Enthusiast" market. Today, we will be looking at one of their new enthusiast lines of products, the BUC Mid Tower Case.
Before we get started with the review, a little information on In Win is in order.
About In Win

(Taken from In Win's Web Site)
"IN-WIN Development Inc., an ISO 9001 manufacturer of professional computer chassis, power supplies and digital storage devices, is the leading provider of enclosure solutions to system integrators worldwide. Founded in 1985, IN-WIN provides high quality chassis that conform to all safety regulations, as well as unsurpassed customer service.
In Win has become a leading, top-notch manufacturer of core technology in order to meet market and consumer needs and demands. Our company's management team has laid a strong foundation in terms of eight major elements: Innovation, Service, Speed, Value, Safety, Warmth, Faithfulness, and Diligence. These elements help In Win to remain a leader in the business realm and also help differentiate us from our competition.
Affectionate about our employees, the protection of the environment and the community. It is within In Win's corporate core values to care for people and the planet; to improve lives and the environment.
As a leading manufacturer of PC chassis, Power Supplies and HDD enclosures In Win has developed and implemented several procedures and policies required for Earth preservation, energy savings and continues to produce quality and safe products to fulfill needs and desires of society and our partners. Among other achievements we have passed ISO 14001 environmental management system certification and QC080000 hazardous substance process management system verification. We further established and now are executing management plan for "Green Product Development", promotion of environmentally friendly products as well as recycling mechanisms compliance WEEE, RoHS, REACH and Energy Star's international standards.
But we do not stop there! We believe that only continued improvement in all aspects of our business is the "In Win-ningâ" way to succeed and to build better tomorrow. Our plans for the near future therefore are to continue to care for our employees, for the protection of the environment and to give back to community."
Follow along as we explore the In Win Buc's features and take an in depth look at what this case has to offer!