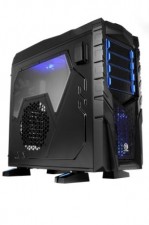 Never to be known as sitting idly by, Thermaltake continues to roll out new product after new product. One of their newest product offerings in the chassis line is the Chaser MK-1. The Chaser MK-1 is the first case offering in Thermaltake's new "Galaxy Episode" series of products, so today we'll have an in depth look at what this case has to offer you, the consumer!
First a snippet about Thermaltake as taken from their website:
The Company Line
"We live in a world where most things seem to move at the speed of light. At Thermaltake, we feel the same way and that is exactly how Thermaltake conducts itself to deliver innovative, reliable and customer-centric solutions to the worldwide market.
Since the beginning of Thermaltake in 1999, it has been at the forefront of creating new and exciting products at a time where most computer users were provided little to no choices for components that may seem irrelevant, but in reality crucial to the performance of a PC.
While still a relatively young company, established in 1999, Thermaltake is built on unwavering will and dedication to address issues and innovate at the same time for computer enthusiasts and corporate users worldwide .
Customers are our greatest asset and Thermaltake does not take that for granted. That is why Thermaltake is the industry leading in customer service and customer support with around-the-clock automated product return service."