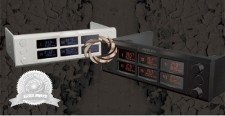 Introduction
Fan controllers are all the range these days and come in many shapes and styles. However, with the competition fierce between companies, a product better have some rather unique features.
Manufacturers  such as Aerocool, employ many LEDs and a touch interface, similar to that of a Star Trek Bridge Console. Lamptron concentrates on build quality and only uses the original metal in the construction of their units, while NZXT products are known for sheer good looks.
However, of the above products, the one that provides the most watts per channel is the manufacturer Lamptron (between 20 and 50) which is dependant on the model. For this reason, any computer water cooling enthusiast worth their weight in salt will use the controller for powering their Water cooling pumps, as well as their fans. We all know that most of the time there is no real need to speed up and slow down a pump, however, if we can use just one power source to the Fan controller unit then this would eliminate the need for a power cable to the pump. Until now, the only manufacturer that has offered sufficient wattage to enable this function has been Lamptron. Having said this, we all know that wattage is only part of the equation and amperage also has to be taken into account.
Enter Reeven, a previously unknown company from Taiwan that specialises in cooling products.
REEVEN is a newly established international manufacturer of PC related products. REEVEN's product lines includes the best quality of advanced CPU coolers, Cooling Fans, Power Supply Units, PC Cases and many other items. the target of our products will be  a wide range of audience under our philosopohy "Professional Quality Gears", for products that will withstand the highest demand.
(www.reeven.com last accessed 10/05/2012)