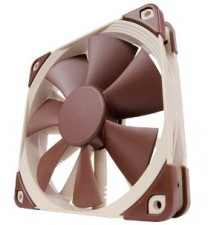 Introduction
Fans are all the range in this day and age as we have case fans in all sorts of shapes and sizes and with differing specifications to boot.  These products have either been designed for either processor coolers or as a case option. However there has never been a fan product design specifically and targeted at the 'WATER Cooling' end of the market. Choosing fans that work well in conjunction with water cooling radiators has been a hit and miss affair as the specifications needed are the reverse of a standard case fan such; as low static pressure 'case fan' as opposed to high static pressure for radiators.
One such company that aims to take the guess work out of this are Noctua. A company noted for its high performance CPU coolers with a portfolio that specialises in products that have less noise than many others in the market. This business is very well known for its high quality products and the 'Marmite' colour scheme of which is the subject of much discussion amongst the enthusiast crowd. However (and to quote the Marmite saying) love them or hate them; Noctua have certainly made an impact within the silent cooling market.
Company Background
Below is what Noctua have to say about themselves in regards to their company ethos:
In a market that's increasingly driven by cost saving rather than customer dedication and flooded with branded budget products, we take pride in striving for excellence both in product and service quality. For example, our heatsinks feature all soldered joints for maximum performance and durability, our fans' 150,000h+ MTBF is backed up by a full 6 years manufacturer's warranty and when AMD introduced AM2 and Intel introduced LGA1366, we provided thousands of users with mounting kits for free. As a result, an ever growing base of avid Noctua users not only swears by the thoroughgoing premium quality of our products, but also by our excellent, customer-friendly service.
What does Noctua mean?
The little owl, Athene noctua, is the symbol of the Greek goddess Athene, who represents wisdom, science and strategy. She has a marked preference for the most clever among the Greek heroes, like Odysseus, who endure their adventures by the use of savvy consideration instead of mere force. Until today, the owl symbolises intelligence and prudence, its manlike face emblematises attentiveness and communication. We from Noctua follow the suit of its calm and accurate observation in the dark, its soundless flight as well as the effective, economical use of its powers and precise attack.
 Let us now move on to the product Specifications