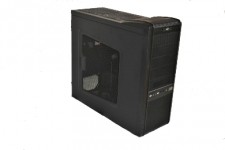 Introduction
There are as many differing types of computer chassis as there are stars in the sky. Then to add to this there are a myriad of differing styles, formats and methods of cooling the aforementioned cases. Gone are the days when all a computer case used to be was a drab beige box! Where if an enthusiast chose to upgrade/install their system then the chances were that nasty cuts would occur due to the sheet tin/metal employed within the said chassis. We have also seen the end of the infamous turbo-button and LED speed indicator display, which in all intents and purposes was a 'brag-tool' utilised to show off how fast your computer was. What most didn't know at the time is that one could simply change the numbers of this indicator by the use of jumper switches.
Cases have moved on a great deal since then and on the while perform well. However not only are the consumers requiring performance as others simply want 'killer' looks was well. Today however we review Spire Corp's Savit 6003 offering.
Company Background
Spire, founded in 1998 in The Netherlands, is a leading premier brand for computer thermal solutions, power supplies and enclosures. In order to meet the requirements and demands of the global market, we have established our production facilities in ShenZhen, China. Our corporate office is based in The Netherlands and sales offices in Japan and Brazil. All locations are strategically located to better work with the customers we serve.
Spire Products are dedicated to bringing you the latest technology in computer cooling as it becomes available and to offer a variety of solutions to combat the growing concern of overheating. With todays high-speed processors functioning at an unprecedented speed and output, the demand for better and more reliable cooling solutions has become one of the most important issues in the computer industry today. As a premier manufacturer of high quality cooling solutions, we are able to meet the demands of the computer industry by providing competitively priced products, next day delivery and up to 5 years of warranty. With reliability of products having such high precedence in the business, Spire has earned the loyalty of many well known manufacturers and distributors throughout the world. We have maintained close business ties with international names in the computer industry.
( http://www.spire-corp.com/main/aboutus_company_profile.asp accessed 19/08/2012)