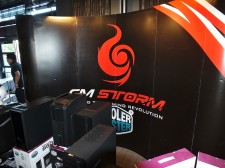 Next up on our trip of the Target Open day we the arrive at the Cooler Master stand, of which dominates one side of the room and is easily the largest stand within the exhibition hall. So with a drooling mouth and beady eyes we take a visit and see what they have to show and indeed what they have to say for themselves.
Now we have been able to get a sneak peak at a number of new products issued by Cooler Master today-with the most exciting being the much discussed CM Cosmos SE! Boasting a price of around  £150 RRP and water cooling supported in an internal fashion then things are looking rosy indeed.
Lap it up folks as at this moment this is the most comprehensive sneak peak of this case available.
That's it, let us look on what else CM have to offer in other areas.
Hands shaking and with baited breath we  have a nosy around the other side of the stand and encountered the largest keyboard I have ever seen in my life, which is the new Aluminium series which is of an unusual shape.
The keyboard mentioned above sports a white LED background, of which is a nice change from the usual tacky Blue colour  associated with other brands and helps to lend to a nice 'classy' feel. The top panel of the keyboard is removable so one could either change it for another colour or make your own. Of course this is a mechanical keyboard and promises to catch the eye of the enthusiasts. To compliment this Cooler Master have released two new products with these being the aluminium headset and the same in a mouse called 'The Reaper'. The latter is a laser-based model and should prove to be a hit amongst gamers and serious users alike.
Apart from the Cosmos SE  there were plenty of other cases such as the CM scout 2 and the N-Series. The latter allows water cooling but on a tight budget, that's right the ability to fit two 240mm radiators inside the chassis and all for around the price of 60 to 70 pounds sterling.
That is it for the Cooler Master stand this year, and you can be rest assured that Overclockers Tech will be reviewing some of the products listed above very soon.
UP and coming MORE from Target Components Open Day.