This case is still making its way to online retailers, but doing a bit of searching around, it appears it will cost roughly $159.00 USD. At that price, it will be hard to find a case that is more water cooling friendly than this one. Quite simply put, the IN WIN GRone is limited only by one's imagination as far as water cooling goes. The GRone is very roomy inside, and it's hard to imagine any CPU air cooler or video card that won't fit. The cable management opportunities the GRone employs are more than ample, and should allow for an extremely clean looking build. The list of features just goes on and on. I have reviewed several IN WIN cases over the past year or so; and I can easily say this is their best effort to date.
If I was to nit pick, about the only problems I have with the case are the lack of rubber inserts for the feet and PSU mounting area, and that you have to either tilt or lay the computer on its side to remove the bottom filters. Other than those few things, it's really difficult for me to find anything I don't like about the IN WIN GRone.
If you are in the market for a case in this price range that is jammed packed with features, water cooling friendly, able to accept the largest of components, and is attractive in design, the IN WIN GRone definitely needs to be on your short list. It's no secret that Overclockers Tech is a water cooling enthusiast review site, and as such, we really enjoy products that come across our review bench that cater to that aspect. For this reason, along with the value this case offers to both the water and air cooling crowd, it's easy to give it our Gold Award!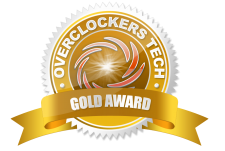 -Dino DeCesari (Lvcoyote)