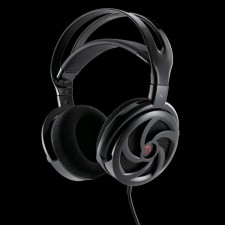 Today we present a video review of the Thermaltake Tt eSports Shock Spin Gaming Headset. The Tt eSports line continues to churn out new and innovative products for the gaming enthusiast and the Shock Spin Gaming Headset is one of their newest offerings.
About Thermaltake Tt eSPORTS
"Thermaltake is a well known brand for gaming & DIY in Case, Cooler, and PSU for years. Due to the constant requests for keyboards and mice from gamers and end users, Thermaltake decided to create a series of gaming keyboards, mice, and headsets with the Tt eSPORTS brand. By using Tt eSPORTS, we want to extend our product lines into the gaming industry, and provide more personalized gaming gears to gamers and enthusiasts worldwide. With years of experience in gaming industry, Tt eSPORTS is committed to bring the most personalized and the highest quality weapons for the most competitive cyber battles. Designed by gamers for gamers.
Computer gaming over the past decade has grown to a global movement and evolved into a competitive sport. eSports is increasingly recognized as an official sport. The eSports environment is more organized and professionalized, people around the world are taking eSports competition more seriously. Tt eSPORTS is uniting gamers from all over the world in a unique eSports culture, in an effort to achieve recognition of this global movement as a true sports discipline with engagingly competitive tournaments, just like in the real world. Tt eSPORTS represents an integrated eSports environment for pro-gamers, semi-pros, entire gaming teams as well as the occasional leisure gamers who enjoy mastering the challenge among a common fellowship."
So sit back and relax, watch the video and learn what the Shock Spin Gaming Headset has to offer!