The Tt eSports Saphira Gaming Mouse feels great in the palm of your hand; the more I used it the better it felt to me. The mouse glides effortlessly and very smooth feeling across any pad or surface I tried it on. With all the different profile settings, lighting options, and macro keys available, it is difficult to think of any situation this mouse can't handle.
The Saphira Gaming Mouse can be had for $59.99 or less at many on-line retailers, and in my opinion it would be money well spent. If you are in the market for a superb gaming mouse that is loaded with the latest technologies then the Tt eSports Saphira Gaming mouse needs to be at or near the top of your shopping list.
Overclockers Tech awards the Tt eSports Saphira Gaming mouse a 9.5/10 and the accompanying Gold Award!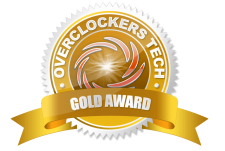 Dino DeCesari (Lvcoyote)