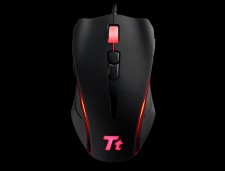 The guys at Thermaltake USA in Southern California were kind enough to send along the Tt eSPORTS Black Element Gaming Mouse for us to check out. We have done several reviews lately of the Tt eSPORTS gaming products as the product line continues to grow and offer an ever increasing list of options for today's gamer. So, lets have a look at this high end gaming mouse and all it's attributes.
First though, a little about Tt eSPORTS,
Headquartered in Taiwan, Thermaltake, and thus Tt eSPORTS, have a strong global presence with several locations in South America, the USA, Japan, Australia, and Europe. Founded in 1999, Thermaltake has been at the forefront of thermal solutions since day one.
As their product lines have expanded from thermal solutions to encompass Chassis, Power Supplies, Storage Accessories, Server Products and a diverse line of computer accessories, the Thermaltake brand has rapidly become a well known name in the computing industry.