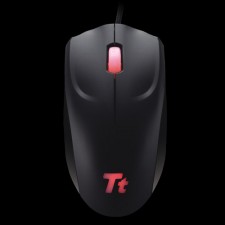 Thermaltake continues to bolster its Tt eSPORTS gaming products almost daily it seems and has made a serious push as of late to become THE name in gaming peripherals and accessories. The Azurues Optical Gaming Mouse is another new mouse option provided by Tt eSports giving the hardcore gamer yet another option when looking for gaming devices.
So what exactly does Azurues mean anyway? We don't have a clue! Searching around yields a BitTorrest program that bears the same name, but it's highly doubtful the mouse is named after that. So, with the assumption that the Azurues name is simply a creative impulse by those that name the products for Tt eSports, we'll leave it at that!
Lets start by giving a brief overview of the Tt eSports branding.
About Tt eSPORTS
"Tt eSports is the gaming brand of choice for the energetic and powerful Challenger, boldly and intelligently facing the extreme competition. So what does Tt eSPORTS mean for you? Your personalized gaming experience. Stay competitive and find your own challenge. Get in the game, be part of the team, stay engaged.
Building Thermaltake Technology into a cultural brand for the enjoyment of entertainment, e-Sports, technology and lifestyle is a realizable dream, and a hope for an enterprise pursuing outstanding management. Although Thermaltake Group may face challenges in terms of entertainment, e-Sports, technology and lifestyle, we still seek to maximize the corporate value and are working hard to achieve the goal."