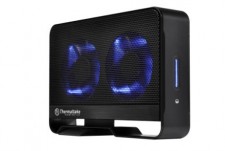 Thermaltake continues to bring new and innovative products to the PC enthusiast market, and the recent release of the Max 5G 3.5 Hard Drive Enclosure keeps Thermaltake at the forefront of timely new product releases.  We will have an in depth look at the Max5G's performance and functionality so you can see for yourself if this product is right for you.
First a little about Thermaltake, as taken from their website:
"While still a relatively young company, established in 1999, Thermaltake is built on unwavering will and dedication to address issues and innovate at the same time for computer enthusiasts and corporate users worldwide . With strong support of Research & Development team standing behind the brand, Thermaltake is committed to never-follow but always-lead. In past decades, the industrial and technological advancements in different fields have shaped the world we live in today and have also made a big impact on the environment. Thermaltake takes great measures to ensure the product that we produce relieve these impacts by being first to act on 80 PLUS® specification for computer power supply that greatly reduces the amount of electricity that a computer consumes.
Always striving to be the best, we continuously benchmark our performance against the very best internally and externally. Customers are our greatest asset and Thermaltake does not take that for granted. That is why Thermaltake is the industry leading in customer service and customer support with around-the-clock automated product return service."
Follow along as we next explore the packaging and box contents!