The Frio line of CPU coolers has taken a new twist with the release of the "Extreme" version; this time a dual tower design has been implemented. Thermaltake has promised to push air cooling to its limits while providing the ultimate air cooler. Can it live up to its advanced billing? We'll run it through the paces and see!
About Thermaltake
"Since the beginning of Thermaltake in 1999, it has been at the forefront of creating new and exciting products at a time where most computer users were provided little to no choices for components that may seem irrelevant, but in reality crucial to the performance of a PC.
Thermaltake Server Series solutions, with years of thermal experience and industry leadership, sets its goal on reforming total thermal management in server segment by formulating the perfect mixture of versatility, efficiency and thermal management with each respective server product category: Rackmount Chassis, Server Fixed & Redundant Power Supply and Server CPU Cooling Management Solutions.
With its comprehensive line of products available, it enables Thermaltake's core customers to enjoy a one-stop-shop experience, reduce product design-in evaluation period and most important of all, flawless integration process. Each of Thermaltake's strengths enables its customer to focus on their core business while taking advantage of the skills and efficiency of a single thermal management solution partner."
–~~~~~~~~~~~~–
Let's start this review with a look at the features and specifications of the Frio Extreme as provided by Thermaltake.
Features
Ultimate Over-clocking Design Structure, supports up to 250W - Dual tower heat-sink with 0.4mm aluminum fins provide large surface for heat dissipation.
- 6 x Ø6 mm-U-shape copper heat pipes accelerate heat conductivity.
- Mirror-finished copper base, provide perfect contact with CPU.
- Premium thermal grease maximizes heat transfer from the CPU onto the copper base for faster dissipation.
The Combination of VR and PWM Fan Control
- Dual 14cm high performance blue blade designed fans, spins from 1,200 to 1,800RPM.
- Combination of VR and PWM functions, switchable upon user's preferences.
- Tool-less and Easy installation design for quicker disassemble and assemble the fan module.
Universal Socket Compatibility & Accessory Package
- All-in-one back-plate design, support all Intel and AMD platform
- Universal socket support :
Intel: LGA 2011, 1366, 1155, 1156, 775
AMD: FM1, AM3+, AM3, AM2+, AM2
Specifications
Compatibility
Intel® Latest Sandy Bridge & 6-Core Processors
Intel® Core i7 Extreme (Socket LGA2011/LGA1366)
Intel® Core i7 (Socket LGA2011/LGA1366 & LGA1155/1156)
Intel® Core i5 / i3 (Socket LGA1155/1156)
Intel® Core 2 Extreme / Quad / Duo (Socket LGA775)
Intel® Pentium & D / 4 (Socket LGA775)
Intel® Celeron & D (Socket LGA775)AMD® Latest Llano & 6-Core Processors
AMD® Llano Processors (Socket FM1)
AMD® Phenom II X6 / X4 / X3 / X2 (Socket AM3/AM2+)
AMD® Phenom X4 / X3 (Socket AM3/AM2+)
AMD® Athlon II X4 / X3 / X2 (Socket AM3)
AMD® Athlon 64 & FX / X2 (Socket AM2/939)
AMD® Sempron (Socket AM2/939/754)* Supports All CPUs up to 250W TDP
Heatsink Dimension
148.2(L) x 151(W) x 160(H) mm
Heatsink Material
Aluminum Fins
Aluminum & Copper Base
Heatpipe
6mm (x6)
Fan Dimension
140(L) x 140(H) x 25(W) mm
Fan Speed
1,200 ~ 1,800 RPM
Bearing Type
—-
Noise Level
19 ~ 39 dBA
Max. Air Flow
106.2 CFM
Max. Air Pressure
2.34 mmH2O
LED Fan
—-
Power Connector
4 Pin
Rated Voltage
12 V
Started Voltage
6 V
Rated Current
0.5 A
Power Input
7.2 W
MTBF
50,000 Hrs @ 40℃
Weight
1230 g
As with all the previous Frio Coolers, the box has the typical red and black theme. The box front has a picture of the Frio Extreme with a cool blue wave behind it. The box sides have some small pictures listing the main features, and a multilingual list of a few of the product highlights.
Opening the box you are immediately greeted with two installation guides, one for AMD and one for Intel. The other pamphlet is the warranty information. The Frio Extreme comes with an industry leading 10 year warranty!
Once the paperwork is removed you see the Frio Extreme very well protected in sturdy foam blocks; as usual with Thermaltake products, a fantastic job with the packaging!
The accessory pack includes the universal backing plate which Thermaltake developed a while back and continues to use today. Unquestionably this is one of the best backing plate designs on the market. Because the backing plate is made from a non-metal material, there is no need for all those sticky foam insulation pads most manufacturers use. This really makes things easy for future removal and replacement. All the brackets, screws, and bolts needed for installation are neatly packaged in an accessory tray with dividers, which keeps everything in order, and easy to find later on. You will also notice the fan control switch; this is used to control the fans by either PWM or VR by a switch on the controller.
–~~~~~~~~~~~~–
The two fans included with the Frio Extreme are 1400mm x 25mm thick, and offer an adjustable RPM rating of 1200 to 1800. The PLA14025S12H fans appear to be manufactured by Power Logic with some enhancements by Thermaltake, such as the blue colored fan blades.
Looking closer at the dual tower heatsink, the first thing I noticed was the build quality. The Frio Extreme is built very well, and feels solid while working with it. This is definitely one of the larger air coolers on that market, standing 160mm tall. You will want to check the specifications of the case you use to make sure this beast will fit. The six nickle plated copper heat pipes are 6mm in diameter, and at that size will transfer heat to the fins at a very efficient rate.
The aluminum fins are all 0.4mm, and there certainly is no shortage of them, with 56 on each tower.
The nickle plated copper base of the Frio Extreme is where the quality really shows. This thing is factory polished like no other air cooler I have ever seen. The finish on this thing would make a mirror proud! There is a peel-off factory applied protective film applied to the base, keeping the finish free from blemishes during transport.
| | |
| --- | --- |
| | |
You wont be able to install the fans until the heatsink is attached to the motherboard, but I thought I would show you how that process works now. There are two spring clips for each fan that get attached to the heatsink by setting them in pre-drilled holes at the top and bottom. Once the clips are installed, you raise them to snap in place on the fans mounting holes; a simple and painless process. It's a good idea to go ahead and install the fan clips prior to attaching the heatsink to the motherboard, getting the clips on afterwards is a little more difficult because the bottom pre-drilled holes are harder to get at. Additionally each of the fans have arrows indicting the fan blade and air flow direction.
–~~~~~~~~~~~~–
The Thermaltake Global web site has a great tutorial on how to install the Frio Exreme, and here is their blow by blow install procedure for both the Intel and AMD platforms.
Intel Install
AMD Install
We used the Intel install method described above, and the installation was found to be extremely easy to perform. We did not use the cooler on an AMD platform but the installation appears to be just as easy to accomplish. All and all, a great mounting system is used on the Frio Extreme.
As far as the included fan controller goes, you can choose to use it or not to. If you decide to bypass the controller, then simply plug the fans into a motherboard header of your choice; preferably one that can be controlled by the motherboard's BIOS. If you decide to use the included controller, plug the two fan wires into the end closest to the round knob; it's marked "Fan" for convenience. The other end of the controller also has two plug locations – a right and left. Use the right side connector for both PWM and VR control options via the switch and knob. If you want the PWM function only then connect the wire to the left side. The other end of that cable of course, goes to the fan header on the motherboard.

–~~~~~~~~~~~~–
We tested the Frio Extreme CPU Cooler using the following system components:
Gigabyte GA-EX58-UD5 Motherboard
I7 920 D0 Stepping CPU
Corsair Dominator 3X2gb Memory
OCZ ModX Stream 600 Watt PSU
In a controlled environment at 72° F (22° C), each reference CPU cooler was run for 20 minutes at idle and 20 minutes at full load, at which time the temperatures were recorded. The recorded temperature is average reading of all cores. I used LinX stress testing software using the AVX version. I always use IC Diamond thermal compound for all CPU cooler testing.
There is no sense testing this, or any cooler for that matter, at stock speeds. If stock speeds are your intention, then use the cooler that came with your CPU and call it good. With that in mind we applied a solid 1Ghz overclock to the i7 920 using 1.210v to the processor.
Here are the 3.6Ghz Idle and load results:


As you can see by the results, the Frio Extreme out performed the other Frio coolers, as well as everything else in the comparison.  No doubt there is a lot of overclocking headroom still left, and the Frio Extreme should get you as far as possible with air cooling.
–~~~~~~~~~~~~–
Hands down, this is the best air cooling solution I have ever tested or worked with. The fact that the Frio Extreme comes with an industry leading 10 year warranty just adds to the list of why this cooler rates so high on my list. The Thermaltake Frio Extreme has done the Frio line of coolers proud, and has brought it to a new level. The base of the cooler has a polished finish second to none, and by the testing results, it does its job!
Looking around the online vendors that sell the Frio Extreme, it will cost you a hefty price, anywhere from $95 USD to $120 USD depending on where you get it, so shop around. If you are going to ask that kind of price for a CPU cooler, it better perform to the level of the price, and let me tell you, this one does!
If you are a computer enthusiast that seeks only the best for their systems, then the Thermaltake Frio Extreme is a product you simply must take a good hard look at. Without question or reservation, the Thermaltake Frio has earned the first 10/10 I have personally awarded any product, and that means the Overclockers Tech Gold Award!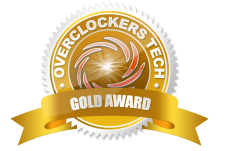 Dino DeCesari (Lvcoyote)