Hands down, this is the best air cooling solution I have ever tested or worked with. The fact that the Frio Extreme comes with an industry leading 10 year warranty just adds to the list of why this cooler rates so high on my list. The Thermaltake Frio Extreme has done the Frio line of coolers proud, and has brought it to a new level. The base of the cooler has a polished finish second to none, and by the testing results, it does its job!
Looking around the online vendors that sell the Frio Extreme, it will cost you a hefty price, anywhere from $95 USD to $120 USD depending on where you get it, so shop around. If you are going to ask that kind of price for a CPU cooler, it better perform to the level of the price, and let me tell you, this one does!
If you are a computer enthusiast that seeks only the best for their systems, then the Thermaltake Frio Extreme is a product you simply must take a good hard look at. Without question or reservation, the Thermaltake Frio has earned the first 10/10 I have personally awarded any product, and that means the Overclockers Tech Gold Award!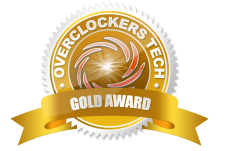 Dino DeCesari (Lvcoyote)