«Previous Page 1 2 3 4 5 -View All- Next Page»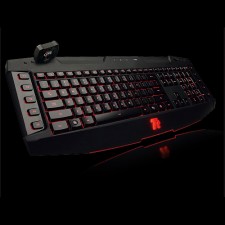 The availability of Thermaltake's new eSports gaming series of products has expanded to include gaming keyboards. There are three different Challenger keyboards to choose from and another they call the Meka G1, today we will be taking a look at the Challenger Pro model.  Before we dive in, lets have a look at a snippet from the eSports website about the keyboard.
Tt eSPORTS Leads the Charge in keyboard Revolution with Upcoming New Challenger Pro gaming keyboard
"Tt eSPORTS, a top global gaming gears provider in esports industry, leads the charge in the keyboard revolution, starting with the official launch the worldwide 1st keyboard with fan cooling design, respectively. These first model will prelude what

Tt eSPORTS promises to offer the perfect gaming gears for every gamer to be distributed by end-May
Challenger Pro gaming keyboard: The High-Performance, User-Friendly Choice
Fully-programmable keys with macro capability
The new Challenger Pro employ the latest Macro keys technology, for advantages that are to be a step ahead of other competitors, and provides up to 64 KB onboard memory in 4 gaming profiles
Hand cooling fan
The world first gaming keyboard with cooling fan. Keep your hand dry. This
unparalleled benefit unique to gamers during the cut-throat competition
Backlight Illumination
4 levels of red Illumination design simulates all time true to life gaming atmosphere, With the right keys lit up, you can always be sure of your next move.
The gaming keyboard will be available worldwide starting by end-May. For more information, please visit http://www.ttesports.com"