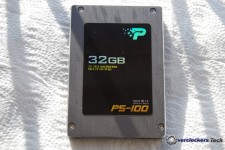 Introduction
The Hard disk drive is dead; long live the Solid State Drive! These are the words that many are wishing to hear these days. With the reliability of these devices, combined with a consistent read speed, lower profile, less heat, noise and the fact that they are much more efficient in terms of power usage, then the age of the SSD has indeed begun! Memory manufacturers have already jumped on the bandwagon and have invested a great deal of resources into manufacturing the next revolution in storage technology.  Coming in many flavours such as the 32, 64, 128, 256 gigabytes and above,  one can see that the potential benefits of these drives.
Patriot Memory was established in 1985 in Fremont, California (with a name such as Patriot, this would indeed make sense) and has long since established themselves in their native USA as a force to be reckoned with. However, in the United Kingdom and perhaps the rest of Europe, they have not made quite as big of a splash as was made in the USA. This could be due to that fact of the very name of the company, or with the cynics in the United Kingdom, thinking that this is a company built from American propaganda rather from that of solid products.  However having seen some of their memory in action, nothing could be further from the truth. Patriot has ever so slowly built a fierce reputation in this country and they are slowly growing further.
Today we take a look at Patriot's latest offering the PS-100 Solid State Drive.  Coming in at the smaller capacity of just thirty two gigabytes and only costing roughly seventy pounds which is inclusive of VAT; from www.aria.co.uk then it could be termed as a bargain. The PS-100's nearest rival in terms of price would be the INTEL value, and the OCZ Solid-2 drives.  However the price on this drive varies greatly and has been sold for as little as a fifty eight pounds from the aforementioned site!  The question is – what exactly would the consumer get for their hard-earned money? Let us read on and find out.
Specifications
The specifications of the drive are modest in comparison to the more costly of SSD's; however at this price-point it is still the cheapest one around, and for the money the drive offers some decent specifications.
| | |
| --- | --- |
| Interface | SATA I/II |
| Raid Support | 0,1,0+1 |
| Sequential Read | up to 210MB/s |
| Sequential Write | up to 150MB/s |
| Cache | 64MB DRAM |
| Controller Card | Phisson |
"The Patriot PS-100 SSD is a great way to upgrade an existing desktop or notebook computer. The PS-100 drive brings faster boot and application load times, reduced power consumption and improved durability. Looking to extend the length of your notebook's battery? The PS-100 significantly reduces power draw extending battery life and reducing heat. PS-100 drives are more durable than traditional hard drives and are ready for the rough and tumble world of every day computing. What's more, they are silent. The Patriot PS-100 SSDs use the standard SATA interface and are available in 2.5″ form factor up to 256GB."
(http://www.patriotmem.com/products/detailp.jsp?prodline=8&catid=21&prodgroupid=166&id=913&type=17 last accessed 29/1/2010)