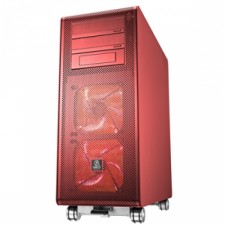 Long known for providing elegant, functional, and extremely well constructed computer cases, Lian-Li recently released another offering to their chassis lineup,  the PC-V1020 series.  The PC-V1020 comes in three color options; black, silver, and red.  Today we will be looking at the red version of this case.
The company line
"Lian Li Industrial Co., LTD was founded in 1983. We are the one of the largest and most reputable manufacturer of aluminum PC case in Taiwan . With over twenty years of experience in the computer products field, our dedicated team of engineers, production specialists and adminstrative staff provide the finest quality accessories available on the market.
In 1993, Lian-Li Introduced the new lines of computer hardware, including bracket( for case & interfaces), Mobile rack(for H.D.D.), mounting kit(for FDD & HDD), aluminum PC cases, IPC, external cases, server cases and more. We also provide OEM & ODM services, you are assured of designs that will meet your exact specifications, innovative ideas in manufacturing that will give your products an essential market edge.
Our outstanding quality has earned us ISO 9001 certification for all of our products. In addition, we back up our quality assurance with a two-yeara guarantee on most of our products.
R&D is one of the reasons why Lian Li is able to offer quality products to the market.  Whether it is for OEM or ODM projects, our experienced mechanical and electrical engineers are capable of providing our customers with the best solutions in product design."
Follow along as we take a tour of the Lian-Li PC-V1020 and all it has to offer!