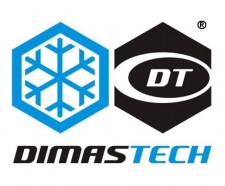 Dimastech the company that symbolises the word quality are about to release a series of thumbscrews, aimed at the custom case market. For those whom are not familiar with Dimastech, they produce wonderful Bench-tables  for the avid enthusiast or those whom write for review sites. An overview of the Dimasech Hard 2.5 bench table can be found here.
http://www.overclockerstech.com/Dismastech-Hard-BenchTable
Overclockers tech were contacted by Andrea at the aforementioned company to inform us of their new custom case screws. These come in two differing sizes M3 and 6-32 Inch threads. The thumbscrews come in a range of colours from the regular black and silver to red green and blue. We at overclockers tech will assume that the 6/32 will be the most utilised as all cases for the enthusiasts use 6/32 inch threads.
Judging by the following photographs they look to be of a very good quality. Note these screws are anodised steel rather than of aluminium. The reason for this is that steel is much more robust and is a much better material and aluminium in this case (pardon the pun)
As has been previously mentioned, Dimastech also do other colours, for those 'special customised cases'
Finally we have green
For those whom actually prefer aluminium over the zinc/steel they have that option as well.
For more information see http://www.dimastech.it