Posts Tagged 'Cases'
Posted by Gilgamesh on January 4th, 2012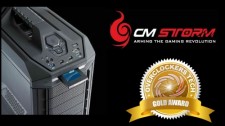 If you are a water cooling enthusiast looking for a new case, then this review is a must read!
Posted by Gilgamesh on July 5th, 2011

Cooler Master has produced a chassis that is certainly hard to beat at this price point. Read the review to find out why we think this cases is an excellent value!
Posted by Gilgamesh on March 3rd, 2010
Introduction In the computer industry, cases are a rather hit and miss affair. With some monstrosities such as the forthcoming Thermaltake Ten to the elegant Lian Li cases, we have seen computer chassis come and go. Remember the days when computer cases were a drab off-white colour and full of razor sharp edges?  In those [...]